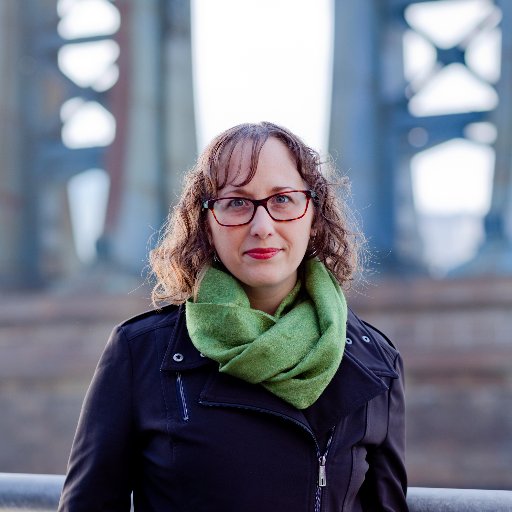 Kit Frick is a novelist, poet, and MacDowell Colony fellow from Pittsburgh, PA. She studied creative writing at Sarah Lawrence College and received her MFA from Syracuse University. When she isn't putting complicated characters in impossible situations, Kit edits poetry and literary fiction for a small press, edits for private clients, and mentors emerging writers through Pitch Wars. She is the author of the young adult novels See All the Stars and All Eyes on Us, out now from Simon & Schuster / Margaret K. McElderry Books, as well as the poetry collection A Small Rising Up in the Lungs from New American Press. A third YA thriller will follow in 2020.
~ What were your favourite books as a teenager? Did they inspire All Eyes on Us? ~
Hi and thanks for having me at A Few Chapters 'til Love! When I was a teen, YA wasn't really a recognized publishing category yet, but I did love books that featured teen protagonists, such as Susanna Kaysen's memoir Girl, Interrupted; Jeffrey Eugenides's The Virgin Suicides, and Stephen King's Carrie. I didn't really get into reading thrillers until I was out of college (I'd consider Carrie more horror), so the books that paved the way for All Eyes on Us (recent YA, and I also read a ton of thrillers for the adult market) mostly came later! One exception is Caroline B. Cooney's The Face on the Milk Carton and the other books in the Janie series, which I read as a pre-teen and definitely sparked my interest in teen mysteries!
~ What is something about you that readers would be shocked to find out? ~
I love thrillers and suspense (obv), but I'm a huge scaredy cat when it comes to horror! I can't watch horror films without giving myself nightmares, and I can barely read it—even though I know there's a lot of amazing horror fiction out there. (See rare exception of Carrie above!)
~ Was it difficult to find motivation to write? ~
No! I actually wrote All Eyes on Us while my agent and I were on submission to publishers with my first novel, See All the Stars, so drafting my second book was an excellent distraction from the nail-biting of being on sub. I tend to draft in a kind of frenzy, so when I'm in it, I'm in it.
~ Do you have a favourite place to write? ~
I pretty much exclusively write at home. I'm actually moving this week, and so I'm upgrading my home office from a smallish room I share with my husband, who is an academic and also a writer, to a big, lovely space in our new house! My new office is painted white with buttery yellow accent walls, and there are big windows over my desk, so I have a great feeling about all the words that are going to flow there.
~ What is the hardest part for you when writing a novel? ~
Endings can be really tricky. There's a lot to tie up when you're writing a mystery, and you want to write a satisfying climactic scene, answer the questions that have been posed along the way, complete the arcs for your main characters (especially if you're writing a novel with more than one point of view, like All Eyes on Us), and maintain the pacing! I always revise my endings substantially. My opening chapter is the spot most likely to get the most rounds of polishing edits, but my concluding set of chapters is the material most likely to change in the biggest ways throughout the revision process.
~ Have you always wanted to be an author? What made you want to pursue a career in writing? ~
In high school, I wanted to go into theater, so I've always had artistic aspirations, but when I took my first creative writing workshop in college, I knew writing was the creative path I'd pursue. I don't think I thought of writing at the time as a "career" I could have, rather as something creative I'd pursue alongside another career that would pay the bills. I still think of it that way, in many ways, as I still work as an editor both for a small press and also with private clients, so writing is not my only source of income. But with my second novel out and two more under contract, writing is happily beginning to feel more like a career! It's thrilling!
~ How long did it take you to write All Eyes on Us? Was the writing process lengthier than your other novels? ~
I wrote the first draft of All Eyes on Us in two quick months! As I mentioned earlier, we were on submission with See All the Stars, so drafting was an excellent daily distraction. I think it's the quickest I've drafted a novel, actually. As with all my books, though, the revision process (which involves revising on my own, working with critique partners and other readers, and then ultimately revising for my editor) took much, much longer than two months. I began revising in September 2016 and turned in my final revision to my editor in June 2018, so drafting = two months. Revising = almost two years.
Connect with Kit!
Website: www.kitfrick.com
Newsletter: bit.ly/KitLetter
Twitter: https://twitter.com/kitfrick
Instagram: https://www.instagram.com/kitfrick/
Pinterest: https://www.pinterest.com/kitfrick/
Facebook: https://www.facebook.com/kitfrickauthor/
Goodreads: https://www.goodreads.com/book/show/44584622-all-eyes-on-us
GR author page: https://www.goodreads.com/author/show/7210822.Kit_Frick
Amazon author page: https://www.amazon.com/Kit-Frick/e/B076MZWV79/
Buy Her Book!
Barnes & Noble: https://www.barnesandnoble.com/w/all-eyes-on-us-kit-frick/1129709313
Amazon: https://www.amazon.com/dp/1534404406/
IndieBound: https://www.indiebound.org/book/9781534404403
Books-A-Million: https://www.booksamillion.com/p/9781534404403
Book Depository: https://www.bookdepository.com/All-Eyes-on-Us-Kit-Frick/9781471186011