Hiya bookish people!
Today I am going to be doing a bit of a How I Read post, including things such as drinks, snacks, where I read, clothes I like to where, and the noises I listen to.
What do you drink?
I will constantly need to be doing something with my mouth, and I have a really bad habit of grinding my teeth so drinking is a good way to stop me from doing that. I will drink when reading, and it is generally coffee if I am reading in the morning, hot chocolate when reading in the evening, and water or lemonade if I am reading at some point in the afternoon.
Do you snack?
Um, when am I ever not eating? I do have rules when it comes to eating while reading a book : nothing juicy or crumbly. That way I don't have to worry about getting marks on my babies books. This generally means I will eat something like nuts, carrots or celery, ice-cream or drier fruits like bananas or apples (so they don't drip).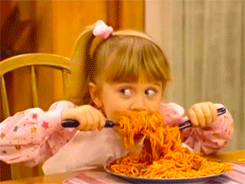 Where do you read?
I can read pretty much anywhere! Plane, car, bed, tightrope, you name it! I am really odd when it comes to reading positions though. Will I sing myself over the arms of the chair? Sit on the back cushions of the couch with my feet on the seat? Upside down on the floor? Twisted so that we don't know if my back is actually broken? Straddling a chair? Who knows!
Clothing wise, how do you read
(yes this question makes sense)
Again, I can read in anything because I almost have a book with me in any situation, so I am glad I can do that! However, dresses and skirts are kind of not ideal with all my weird sitting habits. Normally I wear pajamas at home or yoga pants or track pants or shorts with a loose top. Or a hoodie. Nothing in between! (Fun fact, I hardly ever dress appropriately for the weather )
The Constant Argument: Can you listen to music?
I can! However, I tend to only do so if I am reading a light fluffy book because then I will listen to my instrumental music. I find that anything else is too temperamental in mood, so I could be listening to a punk rock song while two characters are confessing their love, or listening to a happy bop while my favourite character dies.
I know this post is super short today, sorry about that!
How do you guys read?
Cover image is by @anajuma via Unsplash